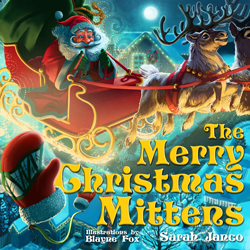 BUY THE BOOK
Out October 20, 2020!
HAVE A HOLLY JOLLY CHRISTMAS!
On Christmas Eve morning, Holly wakes up excited for what her day will bring! When she heads to the pond to skate, mischievous Jack Frost blows a wintry wind that sweeps up Holly's holiday mittens, carrying them away to explore the town. The red, white, and green mittens soar far and wide to watch people sledding, caroling, and decorating gingerbread houses. They might even catch a glimpse of Santa himself!
As Holly's beloved mittens traverse the sky, they get to see how families across the landscape celebrate the holiday and spread cheer to neighbors and friends. Join their high-flying adventure to meet a cast of jolly characters and discover the true meaning of Christmas through the special traditions illustrated in The Merry Christmas Mittens.